Is Roland JD-800 worth 600 EUR?
I get a chance to buy one…
Sounds a bit on the high side. For that kind of money I'd expect it to be serviced or flawless, but that's just me.
Hmm, it is a very nice, but big, synth. Those usually go for ~500€ here in Sweden. Well-kept examples can fetch a bit more.
in my opinion JD800 is worth even more … it's awesome synths… I think JD800 is one of 4-5 top synths Roland ever made … it is 'just' rompler but with great editing capabilities and have inside lot of very classic roland sounds - so if you are into 'classics', it will not dissapoint you …
listen those examples : http://www.youtube.com/watch?v=mlO744IH06c
Max they go on sale here for 300 USD often,
And there's a JD-990 (the JD-800 but better, minus the interface) on sale here right now for $400.
Let me know if it's worth it to you. Note that the only fee I charge is the right to use it for a night or two

I see one JD-800 for $1200 right now on evilBay…

>> Is Roland JD-800 worth 600 EUR?
In my opinion, it's not.
It has a controller for every parameter, but its sound engine is limited.
If I needed or if I wanted those sounds I'd rather look for a JD-990 and a vintage synth card. Together they go for less than 600€ and they give more soundwise.
Like I said- JD-990 for sale right now for $400
And it's the more sought after piece of gear…
Craigs list (local) not eBay
I'd still get a JD-800 if I had room for it. Mainly just because it looks nice, has a ton of controllers and can be used as a giant JD-990 remote for the shared functions at least.
Plus, more JD pad sounds is never bad, even if I already have a JD-990. Plus points also for the orange display with looks rad on a gray synth.
JD-990 with the vintage card is a monster! I'll never sell mine.
JD-990 + Vintage Synth card + M256C data card typically go for $650 here. Bare JD-990 is $450.
Yes the vintage synth card can sell for $200+ by itself (I almost convinced someone to sell me a 990 for $200 due to the lack of vintage card, but he backed out…).
So people have a hard time unloading the 990 without it so it end up being cheap- and most 990 owners don't part with their Vintage card.
But I'd still take a $400 JD-990 over a 600 euro JD-800…
Nobody managed to copy these cards yet?
I'd take this just for the good looks: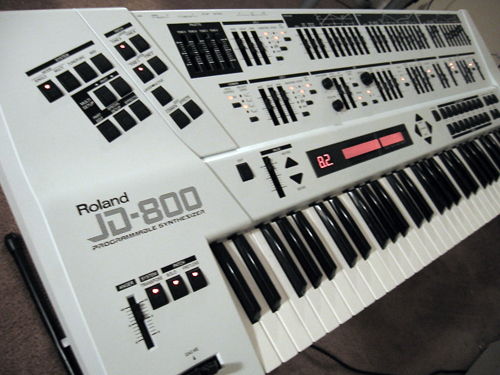 The white ones are rare. Most are silver/grey.
The price in Holland seems to be around €500,- euro and they are sought after.
If you find a really good one then pay what you can afford. Don't buy one cheap and then spend years replacing parts.
A rompler with a great interface is better than something with a slider and a few buttons. You at least get the most out of it.
Yes the sliders are what deterred me from buying a $300 JD800.
But the 990 isn't just an 800 in rack form. It's got a few changes to the software and hardware that really make a difference. Both are great for glassy, shiny pads that sound like every 90s soundtrack/score in film and TV- but the 990 is a techno box.