silver with zebrano … offcuts (from a diy guitar) turning into a 6U skiff.
regards
i had no idea that people build thier own guitars as well!
@mic.w some do, and I have a friend who takes it even more seriously


Peter Barton
just don't look at the prices …
regards
I really want to make myself a cigar box guitar btw. anybody made one here?
When I was four I used a paper towel roll as a neck, shoe box for a body, and different thickness rubber bands for strings. I would play it in our empty shop against the metal garage door to get my own "room" reverb.
@joshuagoran: indian rosewood on alder. It did get a lot darker with finishing: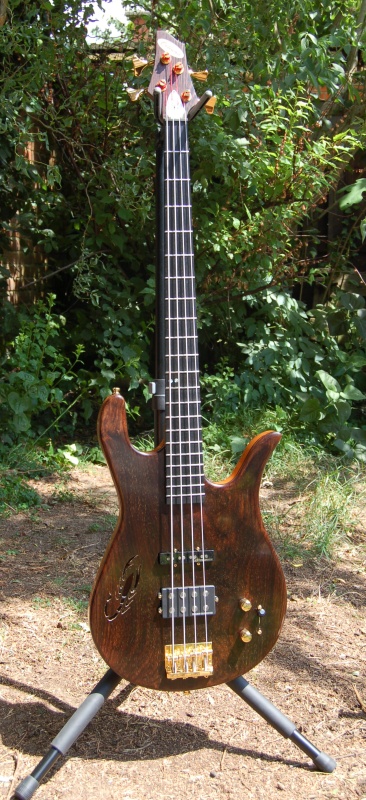 Let's make a DIY string instruments thread… Maybe Olivier want's make a split from this one? I've got some things too.
Wait - it's not sufficiently derailed yet…
A blues broom (A sweeping brush with one tuning peg and a guitar pickup)
In the topic of acoustic instruments here goes something I posted about a while ago:
It is an infinite sustain synth for acoustic guitars, very interesting and weird and comes for the guy at moØg behing their guitar!
Take notice, the sounds are all acoustic!
@shiftr: wait what - no shruthi? what kind of studio is that!?


No I didn't use a shruthi in this setup at that time… Only electronic DIY in here is the DroneLab.
This was my 'live loop sampling' setup about 2 years ago. I struggled for a while to incorporate synthesizers and sequencing into that setup. But i kind of had a breakthrough this week on that.
I now have the Ambika in there wich is sequenced by the Urzwerg pro wich goes to 2 midipals…
Great stuff !
I used to build electric guitars although I didn't have proper wood machinery so it was mainly based on warmoth parts with home finishing and a lot of elbow grease.
Nothing like spraying laquer in your bathroom to make the wife happy - that may even beat fcd's kitchen laser cutting


ByteFrenzy: Gorgeous bass ! Much respect for the home routing etc. Did you finish it in Tru-oil ?Shiftr: that is an intriguing cello / crib !