I'm thinking the M-Audio Axiom 49. Has tons of sliders, solid build. Any cheaper/better recommendations?
Is any controller where you can create different programs, scenes, templates… call it what you want and jump directly by buttons?
in my oxygen you can create different presets but if you want to skip from preset 1 to preset 5 you've to do it by clicking - and + buttons…
The old Korg Wavestation makes a great controller. Excellent keyboard, joystick that sends cc's, built like a tank. In each program, you can have up to eight layers on the keyboard, each with its own midi channel, high/low note (zone), transpose. and midi program # send.
Plus it's a Wavestation

You can change programs with buttons, or with the dial.
the novation remote25 v1 does have scenes. Im thinking about selling mine in fact…
+1 on the Wavestation - just make sure you find one that doesn't have the sticky keys problem. This can be fixed, but it means disassembling the unit.
the Wavestation has my favorite Synth Keyboard - i have one from the very first series, feels not as wobbly a bit like the early Apple ADB Keyboards that are reminescent to the cold wars "Duck and Cover" - nowadays you could hide behind from a Terrorists Attack
I have a Novation 25sl MK2 for sale, which might be right what you're looking for. tons of pots and sliders, decent keyboard with aftertouch, presets, 2 midi outputs, various pedal ins.
Since the Ambika responds to PolyAftertouch, I would say a VAX77 or Kurzweil MIDIBoard.
I like the Novation Impulse 61. Many sliders and pads, very good programming menu and quite good keyboard. Very good bang for the buck!
I answered my own question- the best controller for the Ambika is the performance section of the Ambika and the sequencer/Arp on the Max 49.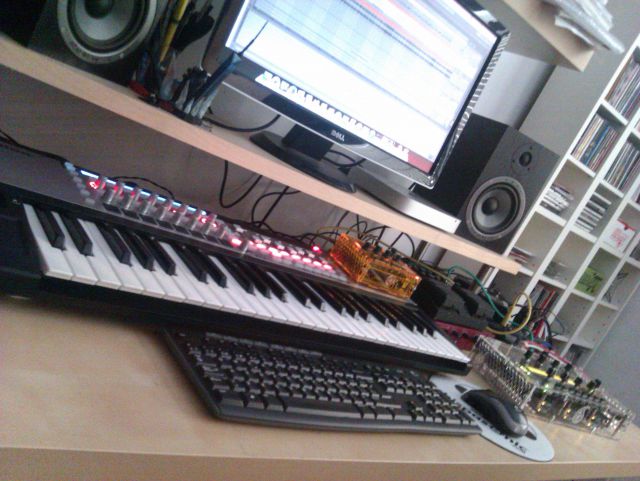 i purchased yesterday, hope to have time this week to try it and share my experience. also love how well fit the shruthi on the top…
it's hard to find a cheap keyboard with poly aftertouch, but you can buy ensoniq eps 16+, old and massive sampler but with a nice keyboard with poly aftertouch,
or the serie pcr by edirol (pcr 300, 500 & 800)
cheap, with poly aftertouch too
@yoggy, nope, edirol pcr (and roland a pro 300/500/800 as well) transmit only channel aftertouch.
They both are best MIDI controllers in my book. No bloat, very compact, synthesizer type keybed, good functionality (using without editor is no problem) and cool looks too.
@elhambre: which model is it?
[EDIT] ok, found it, a novation SL MkII
Hey mate,
Once you have a nice working template for the ambika, do you mind sharing it?
I myself got the SL MK2
Cheers!
I know that the SL MK2 has a template editor where you can open sysex files dumped from hardware or software, then you can assign all parameters to where you want on the SL MK2 (I dunno how to do it, though, have to look into that), I also don't know if the Ambika dumps a file containing all it's MIDI information (and MIDI always confuses me lol)
@logicgate I'd never heard of the Novation controller editor software having the ability to extract control assignments from sysex dumps. I doubt it does, to be honest. In the case of the Ambika, though, all the information you need to create a template is contained this document
a|x
Although the software is buggy as shit the laboratory 49 by arturia has PA - the keybed is really good, metal construction, its quality- in fact the whole controller is made by CME. You can find them used for next to nothing because the bundled arturia the lab (5000 sounds from their softsynths) is so so buggy, especially with live - but the midi control part is OK so if you JUST use it as a controller its a bargain and you can set up templates and it handles MIDI quite well. PLus theyve just bought out a new version of the midi control center.
I'm not sure I would buy any keyboard from Arturia right now: http://www.arturia.com/evolution/smf/index.php?topic=14603.0
YMMV, though, I have a Mini and a Micro and the keyboards are OK so far. Still, an SL MkII is on it's way to me

Arrived yesterday, and I must say this is a NICE controller! Used the beta version of the template editor to get a basic Ambika template going and it works very well. Still adding stuff today.
BTW, I got a great deal on Amazon for this little guy